Collaborations
To order music, contact Andrea Clearfield unless otherwise indicated:
Click on individual piece names for more detailed information.
Lung-Ta (flute, oboe, clarinet, bassoon, percussion, violin, viola, cello, digital field recordings – 2009), 25 min.
The Tibetan Buddhist prayer flag is called Lung-Ta, "Windhorse" after the horse which carries the prayers of the faithful upward towards the heavens. In 2008, composer Clearfield and artist Maureen Drdak trekked to Lo Monthang, a remote region of northern Nepal, which is one of the world's last remaining enclaves of pure Tibetan culture, to research the music and art. Commissioned by Network for New Music, the collaboration with Maureen Drdak, painter and Group Motion Dance Company, Manfred Fischbeck, artistic director, was premiere at The University of the Arts in Philadelphia, March, 2009. The concert version of Lung-Ta was premiered in 2011 by Network for New Music. The midwest premiere of Lung-Ta will take place on May 5, 2012 at the University of Chicago's Rockefeller Memorial Chapel, to be performed by the University of Chicago New Music Ensemble under the direction of Barbara Schubert. The finished multi-media work is, in essence, a 25-minute-long "Prayer for Planetary Peace," celebrating the common themes of eastern and western philosophy. Lung-Ta was presented as a gift to His Holiness the Dalai Lama as an initiative for world peace in 2009. Watch Lung-Ta/Nepal slide show with Lung-Ta audio on the Gallery page.. For more information on Lung-Ta, click on the title.
"Stunning premiere"
–Philadelphia City Paper, March, 2009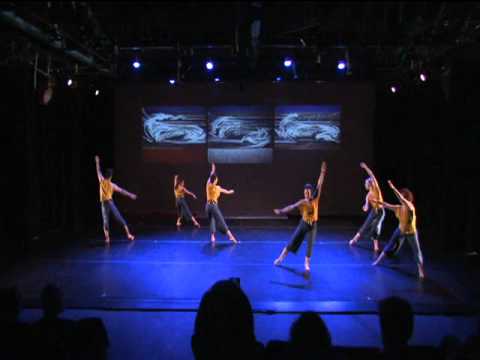 Sonic Circuits (cello and film with interactive technology by Educated Guess Work – 2007), 15 min.
Commissioned by Chamber Music Now
Schwarzer Tod (electronic score 2011), 11 min.- dance, film and poetry
Commissioned by Group Motion Dance Company with visual artist/poet Quintan Ana Wikswo. Premiere 11/5/11 at Meeting House Theater, Philadelphia. Watch a 5 minute video excerpt.
"The featured piece of the evening was Schwarzer Tod and The Useless Eaters, an interrogation of violence, transcendence and liberation beautifully balanced with the use of dance, music, video and spoken word." - Dena Scott, The Dance Journal, 11/11

Remembrance (electronic recording – 2010), 12 min.
Commissioned by Group Motion Dance Company for City Dances
Cal-3 (solo piano – 2009), 7 min.
Work created in collaboration with dancers Debby Kajiyama, José Navarrete and painter Heinder Riepl at the Djerassi Resident Artist Program, August, 2009.
Ominous Weeds (bird song field recordings, toy piano, piano – 2009), 10 min. For visual artist Loren Schwerd
Mozart Reloaded, Andrea as curator and host of multimedia concert celebrating Mozart's 250th birthday, Fresh Ink Series, Kimmel Center, Philadelphia
"Andrea Clearfield is to be thanked for daring to disturb the universe."
Mozart Reloaded: All About Jazz by Victor Schermer
Broad Street Review/Mozart Reloaded: A composer for all seasons by Lewis Whittington
City Paper: Mozart Reloaded
Re-Turn (violin, piano, bass, drum set, synthesizer – 2001), 5:49 min.
Commissioned by Group Motion Dance Company
Women of Cyprus (voice, piano, synthesizer – 2001)
Collaboration with Group Motion Dance Company and the Mersinio Arts Centre in Cyprus
Legacy (sop., flute, piano – 1997), 10 min.
Collaboration with Group Motion Dance Company and paintings by Louise Clearfield
Body (electronic tape – 1997), 5 min.
Commissioned by Group Motion Dance Company
Turbulence (electronic tape – 1997), 6 min.
Commissioned by Karen Bamonte Dance Company in collaboration with Manfred Fischbeck
City (electronic tape, keyboards – 1996), 5 min.
Commissioned by Group Motion Dance Company
Labyrinth (soprano, oboe,/E.H.,marimba, percussion, piano – 1994), 15 min.
Commissioned by Group Motion Dance Company
Winter Universe (soprano, flute, clarinet synthesizer, piano, percussion, electronic tape – 1992), 25 min.
Collaboration with choreographer Myra Bazell
Redstone string quartet (1991), 25 min.
Commissioned by Group Motion Dance Company
Diary of Justyna (SATB chorus, chamber chorus, soprano solo, saxophone, 2 synthesizers, percussion – 1988), 30 min.
For moving chorus, musicians, dancers and actors Collaboration with Manfred Fischbeck, artistic director, Group Motion Dance Company
Theme music for "Flavors of America"
IEBA Communications
Theme music and score for "Wilderness Adventures Off the Beaten Path
IEBA Communications