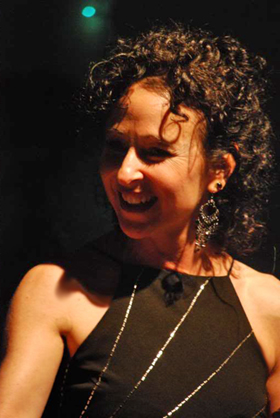 Audio Excerpts. Click on titles for more info.
Tibetan Cantata: Tse Go La (At the threshold of this life) (2012).Listen to the entire work here. Treble choir here. More audio, video and info here. Published by Seeadot here. SATB, SSA, TTB octavos, vocal solos and perusal scores here. Listen to Andrea's other Tibetan-inspired works on youtube.
SSAA/SATB choruses, electronics and chamber orchestra
Commissioned by The Mendelssohn Club and Pennsylvania Girlchoir
Opera on the life of the Tibetan yogi, Milarepa. Libretto by Jean-Claude van Itallie and Lois Walden. Prototype Festival, NYC, January 2019. Commissioned by Gene Kaufman and Terry Eder. Click on title for cast.
Flute, percussion, piano, string quintet
Emma Resmini, Flute; Ida Kavafian and Theodore Arm, Violins; Steven Tenenbom, Viola; Peter Wiley, Cello; Peter Lloyd, Double Bass;
Anne-Marie McDermott, Piano; Gregory Zuber, Percussion, Jonathan Coopersmith, conductor
Commissioned by Music from Angelfire, Ida Kavafian, Artistic Director
Soprano, Flute, Oboe, Clarinet, Bass Clarinet, Harp, Piano, Percussion (3), Violins (2), Viola, Cello, Double Bass, Electronics
Commissioned by the University of Arkansas New Music Ensemble
Tuba and piano, Oystein Baadsvik and Rena Hashimoto
Commissioned by Froydis Ree Wekre
For viola and piano
Commissioned by Barbara Westphal
Flute and guitar, Mimi Stillman and Gideon Whitehead
Commissioned by Diller Quaile School of Music
Flute, harp, string trio
Commissioned by Dolce Suono Ensemble
Sanford Sylvan, baritone, Mendelssohn Club and The Chamber Orchestra of Philadelphia
Commissioned by The Mendelssohn Club, Innova Label
For large chamber ensemble
Commissioned by Network for New Music
For soprano, harp, percussion and string orchestra, Disella Larusdottir, soprano, Symphony in C, Rossen Milanov, cond.
Commissioned by Astral
Hila Plitmann, soprano, treble chorus and orchestra
Commissioned by David Wolman
Violin and chamber orchestra, Gloria Justen, soloist
Commissioned by Orchestra 2001
For flute, viola and harp
Commissioned by Carol Wincenc
For Heide Sibley and Edgar Meyer
Hila Plitmann, Gail Dubinbaum, Valerie Harper (narr.) and orchestra
Commissioned by The Los Angeles Jewish Symphony
Listen to Andrea's music on Youtube or on Soundcloud.
The Salon (28 Years): A Philadelphia Treasure
30 Year Salon Anniversary
Watch 25 Years of Andrea Clearfield's Salon
interview with Andrea on Tse Go La cantata
Mendelssohn Club:Tse Go La premiere
"Shar Ki Ri" from Tse Go La cantata with images from Andrea's treks to Upper Mustang, Nepal
News. Press photos on Bio page
Andrea is an award winning composer of music for opera, orchestra, chorus, chamber ensemble, dance and multi media collaborations. She creates deep, emotive musical languages that build cultural and artistic bridges. Recent works are inspired by Tibetan music fieldwork that she conducted in a northern Himalayan region of Nepal to help preserve this musical heritage. Her first opera, MILA, Great Sorcerer, to libretto by Jean Claude van Itallie and Lois Walden, was premiered in a semi-staged production at the acclaimed Prototype Festival on January 12 and 13th at Gerald Lynch Theater in NYC. Praised by the press as "mystical and dramatically compelling", "highly recommended", "colorful, expressive score", "lush and rich", "a sonic exultation with lasting power", "successfully delivers its redemptive message", "the most accomplished and mature of this year's compositions", the opera was commissioned and produced by Gene Kaufman and Terry Eder. Read the article in the Philadelphia Inquirer. Information here. The opera is on the life of the great Tibetan sage, Milarepa, who transformed from mass murderer into Tibet's most venerated teacher. Watch the MILA trailer.
Lung-Ta (The Windhorse) was presented to His Holiness the XIV Dalai Lama as an initiative for world peace and Tse Go La cantata has been performed internationally. She was keyboardist with the Relâche Ensemble for 25 years and was honored to have been invited to perform with the Court of the Dalai Lama. She was appointed the Steven R. Gerber Composer in Residence with the Chamber Orchestra of Philadelphia, Dirk Brossé, Artistic Director for the 2018-19 season. She was selected as a 2019 Copland House Residency Award winner. Clearfield was awarded 2018 Residencies at Yaddo in Saratoga Springs, the Virginia Center for the Creative Arts and Brush Creek Foundation for the Arts and a 2017 Fellowship at Ucross in Wyoming. She was elected to the Board of Directors of the Recording Academy/Grammy's, Philadelphia Chapter. She was 2018 Composer-in-Residence at the Music from Angelfire Festival in NM and was interviewed there by Fred Child for Performance Today.
She is a recipient of a 2016 Pew Fellowship in the Arts and a 2017 Independence Foundation Fellowship. She was 2018 Visiting Composer at Emory University and Yale-NUS in Singapore. She is currently a Fellow at the Women's International Study Center in Santa Fe. For music inquiries contact Trudy Chan.
2018-19 Commissions include an electric guitar concerto, GLOW, for the Chamber Orchestra of Philadelphia, Dirk Brossé, Music Director, Jordan Dodson, soloist;Widening Circles from Network for New Music in honor of Linda Reichert; the featured flute choir piece, Tides of Breath for the 2018 International Low Flutes Festival; Earth Door/Sky Door 2018 Music from Angelfire; The Song of Hannah for the Women's Sacred Music Project and solo works for Grammy award winning guitarist William Kanengiser and former principal horn, Metropolitan Opera Orchestra, Julie Landsman. Her choral music is included in the 2017, 2018 and 2019 Choral Arts Hal Leonard Voices of Distinction Catalogue. Andrea was also recently visiting composer at University of Texas at Austin, Michigan State University, Curtis Institute of Music and McKilroy Visiting Professor at the University of Arkansas.
New release: River Melos, Ava Ordman, trombone. Purchase here.

Women of Valor, an oratorio on the stories of Biblical women on Albany Records. Hila Plitmann, soprano, Rinat Shaham, mezzo, Tova Feldshuh, narrator and the Los Angeles Jewish Symphony, Noreen Green, artistic director. Fred Vogler, producer. Purchase here.
The SALON celebrates (WOW) 32 years!. We did it – together! Investors and supporters around the country made a lifetime dream come true. A strong advocate for creating vital, alternative arts spaces that build community, Andrea founded her renowned Salon in 1986. "One of the best-known music salons in the country" with a "deep bench of topflight musicians", "an underground sensation" (The Philadelphia Inquirer), "one of Philadelphia's hidden gems" (Temple News) and winner of the "Best of Philly Award 2008" (Philadelphia Magazine), the Salon has become a beloved event, sparking a large and growing community around the arts in Philadelphia and beyond. She started Salons in Aspen, Scottsdale, NY and Main Line Reform Temple, National Museum of American Jewish History and the Interfaith Center of Philadelphia among others. Andrea's 2011 Salon Video
Andrea's 2016 premieres include That Summer: A Fantasia on Family for the Philadelphia Gay Men's Choir (read a recent article about the work here). The work will be published by Boosey & Hawkes in 2018. Tse Go La Chamber Suite was commissioned by the Taos Chamber Music Group, Rabsong Shar for soprano and chamber orchestra for the University of Arkansas New Music Ensemble and Sagitta with Mimi Stillman and Gideon Whitehead at the Curtis Institute of Music. Alleluia for Mendelssohn Club premiered last spring and was published in Boosey & Hawkes' Conductor's Choice Series. Choral works published by Boosey & Hawkes also include When I am Woman, performed at the Girlchoir National Convention in Philadelphia and The Kiss, recently recorded by Sandra Snow for her professional women's choir, mirabai.
Andrea received grants from The Rubin Foundation, American Composers Forum and The University of the Arts to trek to the remote Himalayan region of Lo Monthang, Nepal in 2008 and 2010 to record the music of royal court singer, Tashi Tsering. She and anthropologist and ethnomusicologist Katey Blumenthal recorded over 130 songs not previously documented. Their recordings and translations by Katey Blumenthal with Karma Wangyal Gurung are part of the University of Cambridge World Oral Literature Project. Andrea's Tibetan cantata, Tse Go La, incorporates some of these Tibetan melodies. The work was co-commissioned by The Mendelssohn Club and the Pennsylvania Girlchoir and premiered with the Chamber Orchestra of Philadelphia. Listen here. Purchase the score here. Read an article about the fieldwork. Other works inspired by the fieldwork, Kawa Ma Gyur and Lung-Ta were commissioned by Network for New Music. Watch a video. Hear excerpts from Lung-Ta. Read Andrea's article "Journey to the Top of the World" in the International Alliance for Women in Music Journal. Read David Stearns' feature story in the Philadelphia Inquirer. More info here.